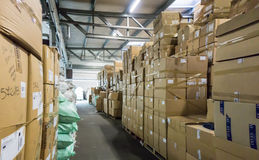 Within the Operations Management and Warehouse Management modules of the Freight2020 transport management system, Item-Level Tracking can dramatically increase efficiency and reduce costs for transport and logistics businesses and 3PL warehousing providers needing to manage and track individual items within customer freight consignments and stored inventories.

A standard feature of Freight2020 since the official announcement of its release in December 2013, Item-Level Tracking is being used successfully by a growing number of transport businesses with diverse operational requirements.
Rob Mullins, managing director of CMS Transport Systems, explained how customer needs were met by the development of Item-Level Tracking.
Item-Level Tracking functionality explained
"While some companies and their customers need only to track whole consignments, this consignment-based approach does not provide sufficient detail or control in every freight situation. For example, what happens when a load is picked up as one consignment but then split into separate pallets, cartons, or individual items for delivery to customers in different locations, or consolidation into warehouse inventory? Developing the seamless management of these complexities within Freight2020 was a fine achievement for the CMS technical team, and a real breakthrough for many organisations using Freight2020 right around Australia," Rob said.
Custom-branded barcode labels printed in batches or on-demand
Freight2020 Item-Level Tracking can begin with the printing of a custom-branded barcode label to be applied to each trackable item or trackable unit of freight within each consignment. From this point, a separate record is created in the Freight2020 system for each barcoded item. Each of these barcoded items will remain electronically trackable even when no longer physically associated with the rest of its original consignment.
Online track-and-trace of individual pallets, cartons, or items within consignments
Scanning devices are used to track the movement of the barcoded items or freight units in transit, through to receipted customer delivery with sign-on-glass via the Freight2020 mobile app or an integrated ruggedised mobile device, or delivery into the warehouse or cold storage where scanning will add the item, carton of items, or pallet-load of items to the customer's 3PL storage inventory.
At every scanned waypoint or event in the journey, the Freight2020 system is automatically updated so that freight customers can monitor the progress of their consignments, and individually-barcoded items within consignments, in real-time via the Freight2020 Online Customer Portal.
For completely hands-free customer service updates, Freight2020 has a system-wide Auto-Email Notifications feature which authorised users can set to automatically notify freight customers via email whenever there is a significant freight-tracking event, from initial pick-up and transit through legs of the journey to the automatic sending of final proof-of-delivery to the customer, or receipt into storage. When the all-important invoice goes out to the customer, all of the charges pertaining to freight movements and changes to stored inventory are pre-validated.