Maintain your business data integrity and functionality, no matter what.
Users of state-of-the-art ERP systems like Freight2020 become 'data driven' organisations. They are able to manage their businesses and serve their customers with such efficiency and visibility that no similar-sized company with a manual or patched-together system could realistically match them.
Yet, by becoming data driven, the organisation also becomes 'data sensitive'. If anything happens to the integrity or functionality of the company's data for any reason, the company and its customers are in sudden crisis.
The costs, losses, stresses, and damages are likely to be great and probably not fully recoverable. No company can really afford to suffer 'data disaster'.
How does a data disaster happen?
Data disasters can be caused by various factors and impacts. Some of these are predictable and others are entirely unforeseeable.
An example of predictable data disaster is when the size of the database is exceeding the capacity of the storage (on-premise or in the cloud). Less predictable are incidents such as hardware failures or natural disasters causing data loss or corruption. Totally unforeseeable – but increasingly common – are incidents like a virus or cyber attack destroying or corrupting the data, bringing the whole business down.
The case study of SRT Logistics
The most widely-cited example of data disaster/recovery in the Australian road freight and logistics industry revolves around the day when SRT Logistics lost all of its data and suddenly went 'dark'.
Someone in the firm had opened a legitimate-looking email which purported to be from the Australian Taxation Office and urged the recipient to click a link. BAM!!! One innocent click, and next thing a dreaded cryptovirus had zapped all of the company's data!!!
SRT Logistics is a very successful and reputable 24/7 business transporting temperature-sensitive freight around Tasmania for Australia's leading grocery retailers and distributors. Suddenly the whereabouts and status of trucks, drivers, and consignments were unknown. Managers and staff were under immense pressure. Customers couldn't see anything online. It was already late in the afternoon and with every passing second, the crisis only grew worse…
SRT Logistics called CMS Transport Systems for help, and CMS shouted out to Progress, the giant software company behind the development environment of Freight2020, confident that the expertise of its database management experts could rescue the data disaster situation for SRT. The time difference between Australia and the USA would mean that work on restoring the functionality of SRT's systems could start immediately and recovery would begin overnight.
Launch of Freight2020 MDBA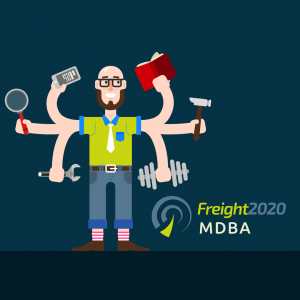 From this emergency intervention by Progress with SRT on behalf of CMS came the idea for CMS to offer all Freight2020 users – whether using the system in the cloud or on their premises – the benefit of 24/7 data protection by Progress in the form of a new service: Freight2020 MDBA.
MDBA stands for "managed database administration". With Freight2020 MDBA it means having a team of the world's leading database experts guarding your business data 24/7, and continuously protecting your business from the potential consequences of data disaster.
Freight2020 MDBA was launched at the Progress Exchange technology conference in Sydney, July 2016, as a world-first service offering by Progress through a developer-partner. SRT Logistics became the first customer of Freight2020 MDBA and since then many data-driven transport companies have opted to benefit from the business continuity assurance and peace-of-mind offered by 24/7 data protection with Progress-delivered Freight2020 MDBA.