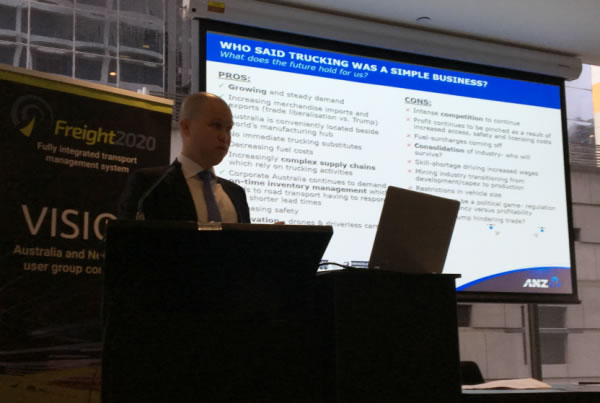 Keynote speaker at Freight2020 VISION 2017, Tim Suffield, Associate Director, ANZ, the expert transport industry analyst and commentator, presented a picture of business performance so compelling that delegates rushed to request a takeaway copy of his presentation before he left for another important engagement. How does your company compare?
The mood in the plenary conference room at Rydges Melbourne was buoyant while Tim reported on how the Australian economy remains robust in light of the slowdown in mining, and that growth in demand for trucking services would remain strong. According to Tim's report, road transport still dominates with 52% share of the national transportation segment, worth approximately $40bn/year.
It wasn't long before one sobering question was verbalised by Tim, and left momentarily hanging…
"So, why aren't we making more money?"
Clarity was soon delivered in what Tim called a 'deep-dive' – the summary of results found by ANZ through detailed analysis of a sample of 30 Australian trucking companies generating combined sales over $11bn, representing approximately 27% of the industry.
For meaningful comparison, companies in the sample group were categorised by ANZ along the following lines:
Specialist freight carriers
Companies that own trucks
Companies that use subcontractors
Privately-owned companies
Public (listed) companies
And the 'winners' and 'losers' are…
Concentrated competition is hurting revenue and returns across the industry with increasing price competition causing revenue and margin compression, according to Tim's presentation, "The Road Once Travelled", the title implying the changing landscape described by Tim from the lectern.
For more of the ANZ detail on how specialised freight carriers are tending to outperform general freight carriers; how general freight carriers have seen a drop in margins and returns; how in general, businesses that largely employ sub-contractors are beginning to increase market share by undercutting the market; why worrying trends will drive further separation between successful companies and stragglers; and why ANZ analysis indicates the trucking industry will be needing more than $3.5bn over the coming 5 years to meet expected demand – get your own free PDF copy of Tim's "The Road Once Travelled" presentation by clicking the button below.
New Freight2020 BI360 set to revolutionise the management of business performance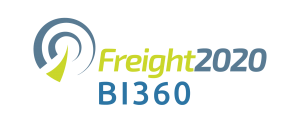 "With 36 years of experience developing solutions for the road freight transport and logistics industry, our company has seen our customers through changing economic conditions, and trends which come and go," said Grant Walmsley, general manager of CMS Transport Systems, Australian developers of the Freight2020 transport management system, at Freight2020 VISION 2017.
"What never changes is the need for managers to see the key performance indicators of the business in real-time. Where margins are tight and the profitability of assets and human resources essential to business growth and survival, our new Freight2020 BI360 business intelligence dashboard allows managers to make prudent decisions for the business based on actual information that is easy to interpret and totally up-to-date," Grant said.
"It's not just data from Freight2020 that we can pull into the BI360 dashboard. The system can also draw relevant data from external sources. Whatever the essential KPI information that's needed by managers of the business, financial or operations-related, it's all displayed in colourful, easy-to-read graphical formats with customisable styling and branding."
For more information about Freight2020 BI360 click below to book a demonstration. Current users of Freight2020 can enquire via the HelpDesk.