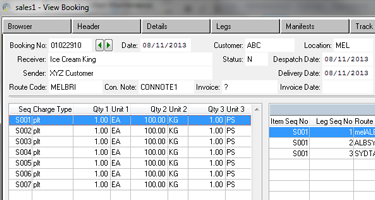 Freight2020's new item-level tracking feature allows users to uniquely identify individual items of freight associated with a customer booking or consignment note.
A barcoded label is produced by the system and the label can be printed by the end-customer using Freight2020 online, or in the office. Standard label forms are available in A4, or for continuous label stock and specific label printers.
"With item-level tracking, users can apply a unique bar code freight label to each item or pallet and track each movement of the item. Freight2020 will know where the item is and creates a record of every item of freight passing through a depot. The freight tracking information is available to the user's customers via Freight2020 online," said Freight2020 founding-developer and managing director of CMS, Rob Mullins.
"Item tracking allows users to split and track items from a consignment when travelling on different trucks. For more efficient processing, scanning devices are utilised at each depot to allocate items to a manifest and also confirm inbound items received," Rob said.
Read more on our website.