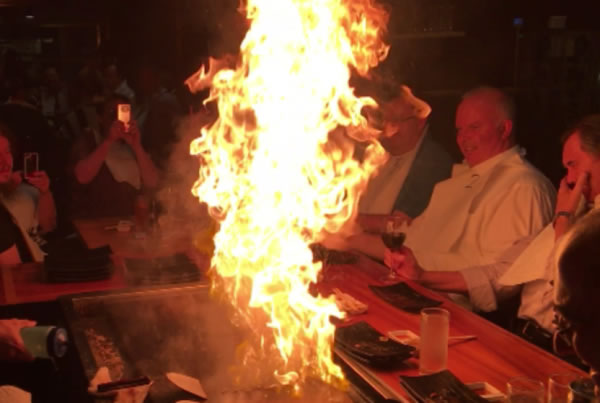 Courtesy of Progress, the global technology partner of CMS Transport Systems, delegates arriving in Melbourne to attend the Freight2020 VISION 2017 conference were treated to pre-event welcome drinks and canapés at Rydges Melbourne, followed by a teppanyaki dinner banquet just a short stroll away in Melbourne's Chinatown.
With scores of company delegates attending Freight2020 VISION from all corners of mainland Australia, across Bass Strait (Tasmania) and the Tasman (New Zealand), as well as some guest speakers and specialists visiting from the UK and USA, the Progress-sponsored hospitality provided a relaxed opportunity for transport industry executives to network with peers and meet some of the people behind the Freight2020 system which powers their businesses.
"We had our video producer flying into Melbourne directly from another assignment, in plenty of time for the conference the next day. Our intention was for one camera to capture the pre-event teppanyaki function. It turned out that some flights into Melbourne that evening were delayed due to bad weather in other regions, which meant our crew couldn't arrive early enough for the informal activities," said Melanie Williamson, the external manager of marketing and engagement for CMS Transport Systems responsible for the overall production and promotion of the Freight2020 VISION 2017 event. "I hadn't brought my pro-camera along but decided to improvise with my iPhone. There were so many entertaining vignettes while the visiting delegates were unwinding from long flights or road-trips in preparation for what would be a very big day work-wise tomorrow."
"Playing paparazzi gave me an excuse to get around the whole room and see how everyone was getting along over dinner, without being overly intrusive. It was great to see everyone enjoying themselves and finding common ground in a social setting, thanks to the generosity of Progress."
"As a NASDAQ-listed enterprise with a predominantly global focus, Progress demonstrates its commitment to developer-partners like CMS Transport Systems in Australia and New Zealand by sending their international executives to spend time with end-users at events like Freight2020 VISION 2017. It makes it easier for Progress to disseminate important information about forthcoming developments, and it helps keep the organisation on-pulse with the needs and experiences of each industry sector in each global region," said Mel.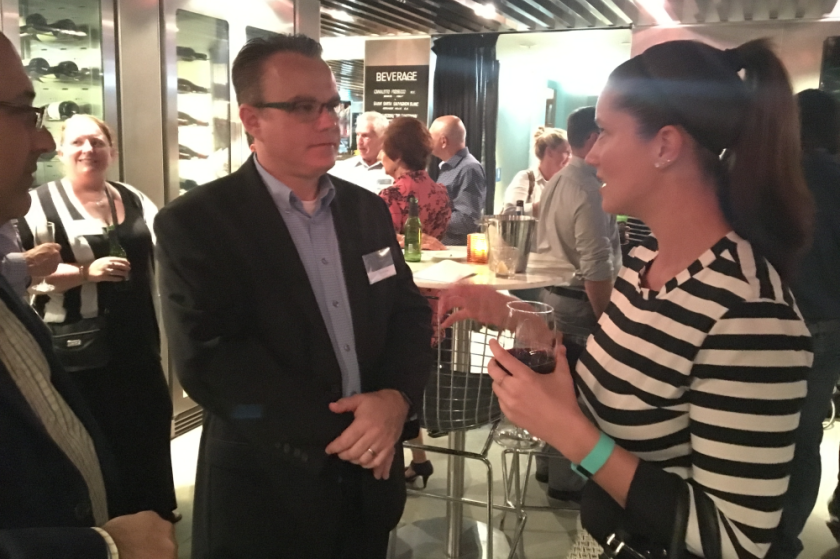 Joe Genovese [left] and Mike Marriage [centre] of Progress met delegates including Jolene du Plessis from Australian Bay Lobster Producers at the Freight2020 VISION 2017 pre-event welcome function sponsored by Progress [Anita Latarche of Cahill Transport in background]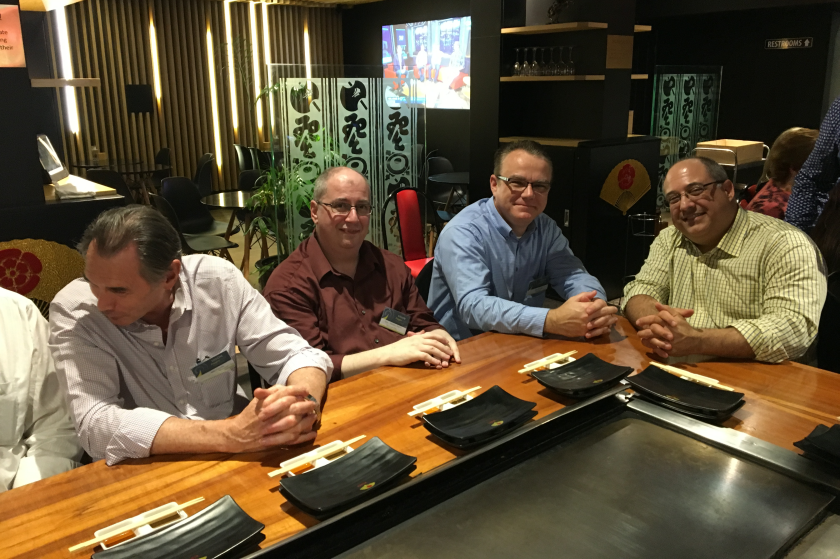 Joe Rozenberg [left], Mike Marriage [centre], and Joe Genovese [right] of Progress at the Freight2020 VISION 2017 pre-event dinner with Allan Thornley from Shaw's Darwin Transport [far left]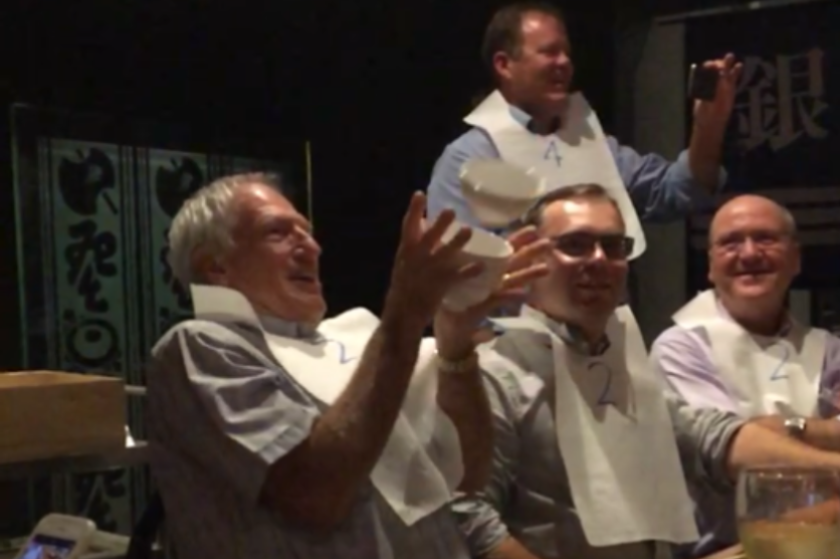 John Bryant, CFO of Australian Bay Lobster Producers, showed safe hands in one of the teppanyaki challenges with Grant Walmsley of CMS Transport Systems [standing], Jim Morgan of Morgan Transport Insurance [centre], and Neville Aganoff, Freight2020 implementation consultant [right]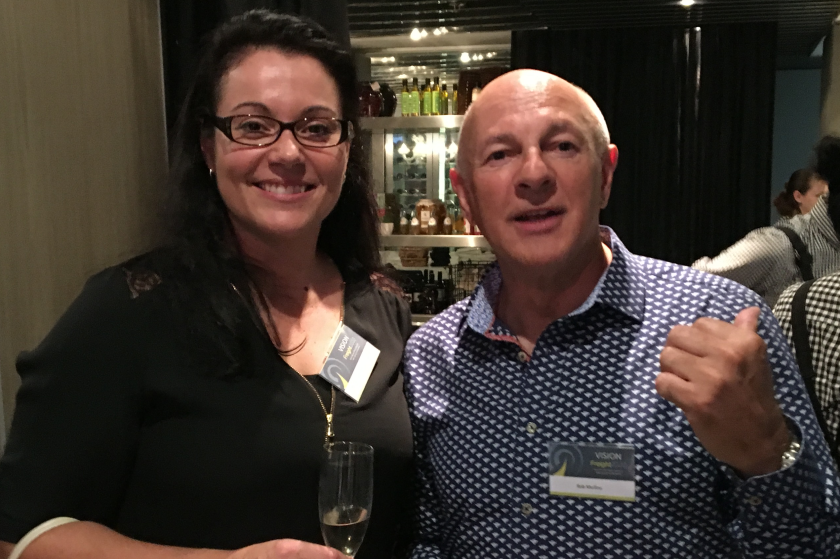 Freight2020 VISION 2017 was a "pinnacle" event for Rob Mullins, managing director and founder of CMS Transport Systems, who was able to enjoy spending time with users of Freight2020 in the relaxed pre-event setting at Rydges Melbourne [pictured with Angela Catford, John L Pierce Transport]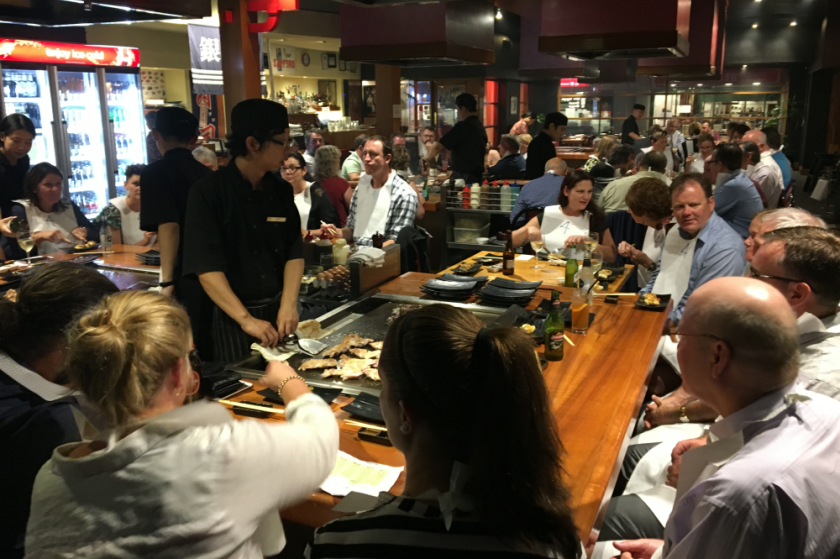 The large dining room of Ginza Teppanyaki in Melbourne's famed Chinatown was totally filled with delegates enjoying the hospitality of Progress in preparation for the Freight2020 VISION 2017 conference the next day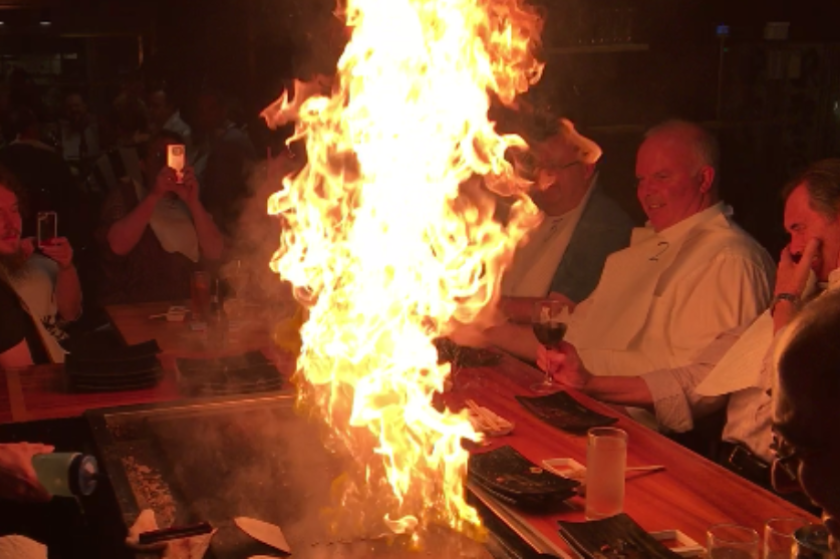 Delegates attending the Progress-sponsored Freight2020 VISION 2017 pre-event teppanyaki banquet were either dodging the momentary flashes of flame or whipping out phones to take home colourful memories of a very enjoyable business networking function provided by Progress
While many delegates at the Progress-sponsored teppanyaki dinner were able to catch the flying pieces of omelette and rice-filled bowls with few casualties and occasional demonstrations of brilliant coordination, Emerson Pierce of John L Pierce Transport was simply unlucky to land his bowlful of rice on his lap – but it was all in good fun (and a replacement bowl of rice was swiftly provided)

Progress was the principal partner in the Freight2020 VISION 2017 event