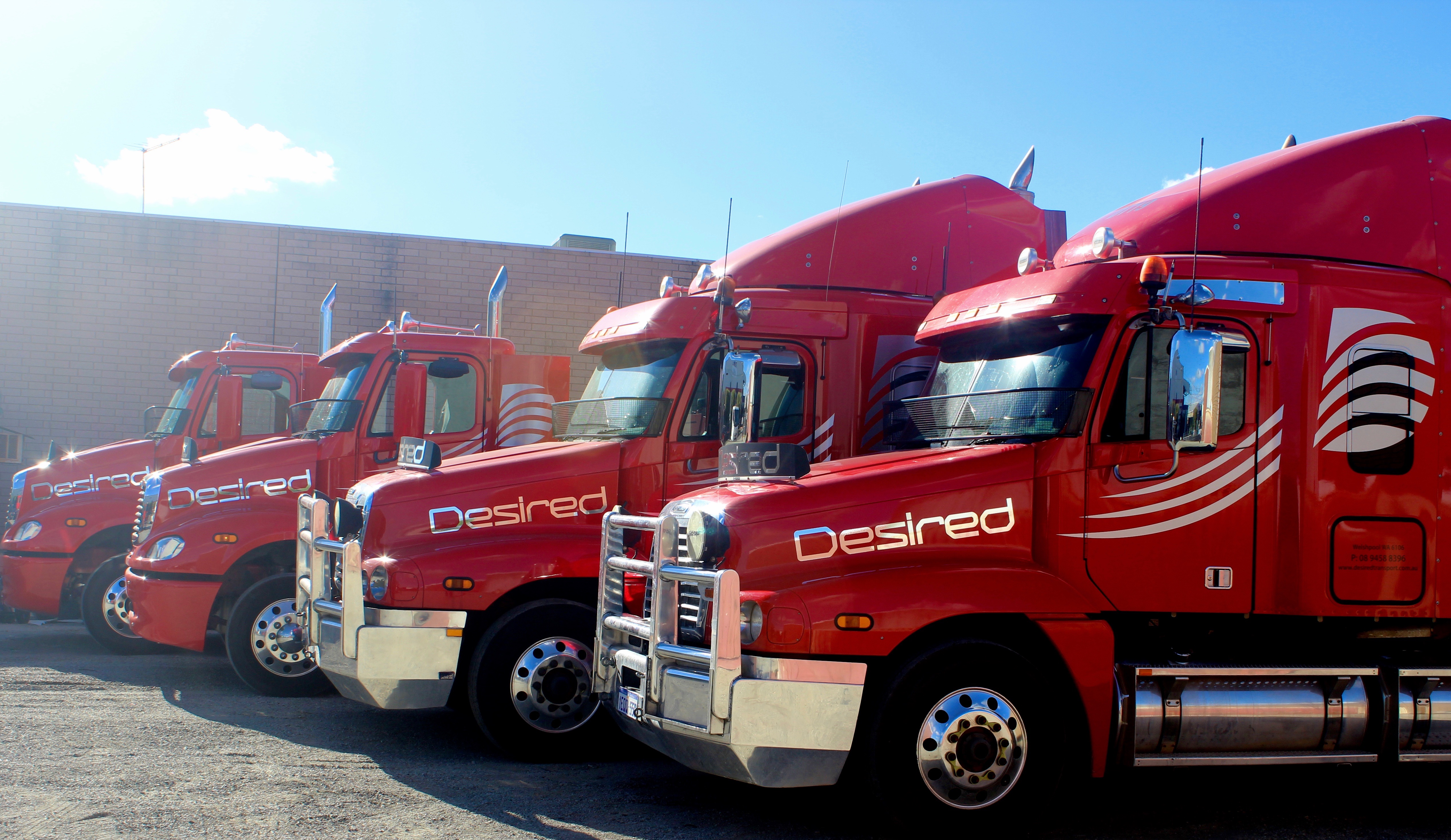 Desired Transport was established in 2009 with just one truck and the stated passion for becoming a quality transport service provider. Today the company has offices in Perth and Brisbane, and a versatile fleet of prime movers, trailers, and rigid vehicles carrying containers, general freight and machinery between Perth, Sydney, Melbourne and Brisbane. Desired Transport's 24/7 service offerings include hot shots of general, oversize and dangerous goods loads to anywhere in Australia.
In the latter half of 2015, when Desired Transport started scanning the horizon for a new transport management system, Freight2020 TMS was chosen for evaluation on the strength of its Operations Management module for Container Freight, and the option of fully-integrated Driver Mobility.
"We delivered a live online demonstration of the Freight2020 system and mobile app to the executive team of Desired Transport. Less than two weeks later we were delighted when Desired Transport announced they would adopt our Operations Management system in the cloud, combined with our interactive mobile app for their drivers," said Grant Walmsley, general manager of CMS Transport Systems, Australian developers of Freight2020 transport software.
Signing coincided with launch of jump-start capability
At around the same time Desired Transport decided to move into Freight2020, CMS was preparing to launch the new Fast-Track Implementation Pathway for Freight2020 Container Freight Operations Management, enabling any new users of the popular container freight management software solution to get up-and-running with their new system much faster than would be expected for any other type of freight management configuration within Freight2020.
Desired Transport would become one of the first examples of CMS' rapid roll-out proposition in action. It took just a few weeks for Desired Transport to be able to use their new Freight2020 system for managing every aspect of transport operations from quoting and freight booking through to invoicing, and their drivers were soon able to interact with live bookings data, including real-time job allocations and proof-of-delivery, using the Freight2020 mobile app on common mobile devices.
More container transport companies choosing Freight2020 TMS
A growing number of Australian transport and logistics companies with container transport as a big part of their operations are taking advantage of CMS' new Fast-Track Implementation Pathway for container freight management by deploying Freight2020 Operations Management Container Freight.
Container Freight is one of seven specialised configurations of Freight2020 Operations Management along with Contract Logistics, Earthmoving, Energy Distribution, General Freight, Heavy Haulage, and Livestock Transport. Freight2020 Operations Management combines with all other Freight2020 management modules and interactivity options for a fully-integrated transport software solution.
Advanced features of Freight2020 Container Freight Operations Management
Coupled with a live interface to 1-Stop Voyage and Vessel data, Freight2020 Container Freight Operations Management makes light work of the management of container collection and deliver locations; slot-time management; rating management; management of reefer and general container details; container stage alerts and reminders (de-hire, empty-collect, etc); interlinked journey legs; driver allocations; vehicle allocations; fees, levies, demurrage management; de-hiring; manifesting; invoicing, and much more. As a modular system, extended features and functions can be configured and implemented from the outset or added to your Freight2020 system at any stage down the track.
Freight2020 Driver Mobility can allow drivers to interact with live bookings data by using a common mobile device. Auto-Email Notifications can be configured to distribute proof of pickup, delivery and de-hiring automatically. The custom-branded Online Customer Portal can provide freight customers with real-time track-and-trace and detailed account information, and the Item-Level Tracking option allows the tracking of individual pallet-loads, cartons or items within container freight consignments.
Convenient live demonstrations available
Take an hour or two to evaluate Container Freight Operations Management and any other Freight2020 transport management system modules in your own office at a convenient time with an easy-to-do live demonstration over the web. Even real-time interactivity options like Freight2020 Driver Mobility can be demonstrated online via the screen-sharing of an app-loaded mobile device, or on your own mobile by downloading for the free Freight2020 Driver Mobility app for iOS or Android.
Freight2020 Demo
Download Android app
Download iOS app
Unlock test drive