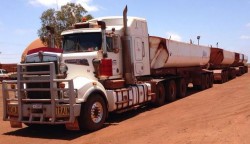 CMS Transport Systems recently congratulated Patience Bulk Haulage on the successful implementation of their new Freight2020 transport management system. A well-known Western Australia-based transport company with more than 200 employees, Patience Bulk Haulage specialises in the heavy road transport of mineral ore, sand, gravel, and grain across some of the world's most arid and isolated landscapes.

Freight2020 replacing popular horizontal solution
Freight2020 was originally short-listed for consideration by Patience Bulk Haulage in 2009. At the time, however, PBH decided to invest in SAP Business One, a horizontal solution put forward by a consultant, along with customisation services which promised to fulfil PBH's requirements.
"Of course we were disappointed to miss out on this earlier opportunity for Freight2020 at Patience Bulk Haulage," said Grant Walmsley, general manager of CMS Transport Systems, "but whenever a transport company chooses a horizontal solution like SAP Business One above a fully-integrated vertical system like Freight2020, we can find this decision being reconsidered before too long."
Grant Walmsley explained the essential differences in efficiency and economy between a privately-developed or internally-developed TMS, as still being maintained by some transport businesses, and Freight2020.
"There are so many complex business processes and calculations which are specific to the Australian road freight transport industry. Horizontal solutions can't perform any of these functions out-of-the-box, and this is where consultants become central to the value equation. The customisation of a generic solution to suit an individual business is a time-consuming and costly exercise. The need for further development, refinement, and updating in response to changes in legislation and industry-specific requirements is never-ending. These problems – commonly associated with all forms of horizontal solution development – may not become apparent during the decision-making process, nor even in the first few stages of the exercise once custom development is underway," Grant said.
Transport companies can focus on their core business activities
In direct contrast to a custom-developed solution, Freight2020 transport software comes ready for immediate implementation. Users can choose from 15 fully-integrated management modules which are specifically tailored for Australian road freight transport and logistics businesses, and each kind of freight specialisation. Each module is configurable to suit the operational and administrative requirements of any individual business. Whenever new features are added to Freight2020, or the system is adjusted for changes to legislation or compliance requirements, updates are immediately rolled-out to all Freight2020 users.
Access to breakthrough technology such as Freight2020 Driver Mobility and the custom-branded Online Customer Portal is also immediate for Freight2020 users – there's no need to continually 'reinvent the wheel' just to keep pace with Freight2020.
"There are huge economies of scale in the continuous improvement of a commercialised vertical solution, like Freight2020, compared to all forms of self-funded bespoke development," said Grant. "With Freight2020, the transport company can focus on its core business activities, without the constant distraction and drain on resources caused by having to maintain a separate IT agenda."
Competitive edge of Freight2020
When the time came for Patience Bulk Haulage to prepare for moving away from SAP Business One, management took an extremely rigorous approach to determining their next steps forward.
"CMS was very confident that Freight2020 would be a great fit for the needs of PBH, so I flew from Melbourne to Perth, then drove five hours to Geraldton to meet with PBH and demonstrate the system. PBH gave Freight2020 an extremely thorough evaluation – rating it against a number of competitive options in direct performance comparisons. Freight2020 proved itself once again as the strongest and best-supported transport management system available in Australia," said Grant.
Patience Bulk Haulage is now using the Freight2020 modules Operations Management, Fleet Maintenance Management, Payroll Management, and Financial Accounting Management.
Growing Freight2020 user community in WA
"A growing number of Western Australia-based transport operators have made the switch to Freight2020. Among them are major companies such as Coastal Midwest Transport, Hampton Transport Services, JKL Logistics, Ontraq Haulage, Road Trains of Australia, WA-based divisions of the K&S group, and most recently, of course, Patience Bulk Haulage," Grant said. "Although CMS is yet to base a Freight2020 implementation and training team in WA full-time, our Melbourne-based implementation and training consultants have successfully completed implementations not just in the city of Perth but also very remote locations like Geraldton, where Patience is headquartered."
Transport companies interested in evaluating Freight2020 can book an obligation-free demonstration from anywhere in Australia by calling the demonstrations coordinator directly on 03 9018 7080 or emailing info@transportsystems.com.au.