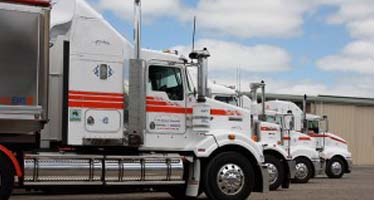 Mt Noorat Freighters, quietly-achieving bulk haulage operators based in Terang, Victoria, have been reporting huge breakthroughs in administration and compliance management following successful implementation of Freight2020, by CMS Transport Systems, with integration to third-party in-cab technology.
"The technology and types of expertise involved in the development of transport management systems and mobility solutions are vastly different," said Grant Walmsley, general manager of CMS Transport Systems. "No single provider can specialise in both fields, but one of Freight2020's many strengths is our ability to integrate the system to any of the leading mobility solutions currently available."
Mt Noorat Freighters was established in 1996 to deliver stockfeed, grain, fertiliser, and other bulk products throughout Victoria, South Australia, New South Wales and southern Queensland. The company now runs a fleet of 20 Western Star and Kenworth trucks. Dissatisfaction with its former transport management technology provider led to its second-time-around evaluation of no less than 10 different providers against a very specific selection criteria.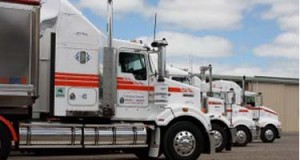 "Mt Noorat Freighters wanted their new system to reduce the administrative workload for back-office staff, and help meet legal requirements regarding NHVAS compliance along with fatigue and speed management. They were also definite about wanting to work with experienced people who were dedicated to the transport industry, and had a strong cultural fit with their organisation," Grant said. After a series of in-depth product evaluations, and assessing the potential of various technology-partner relationship combinations from those represented, Mt Noorat Freighters finally decided upon Freight2020 as its billing and operational ERP, with Transtech's mobility offerings completing their requirement for round-the-clock, 'everywhere' control of their business.
Implementation of the new solution across administrative functions prompted Scott Guthrie, systems manager of Mt Noorat Freighters, to comment, "The administration side of the business has improved by 100%. The reporting capabilities we now have with Freight2020 are excellent too. For example, it's now very easy for management to review profit and loss reports on each individual asset." Of Freight2020 being coupled with Transtech's in-cab system, Scott said, "Previously we were doing double the data entry, as drivers would compile their own information, and back-office staff would have to enter it into our systems. This no longer has to be done twice, and staff have more time to concentrate on what they are supposed to be working on," said Scott.
Reported gains in administrative productivity and efficiency were just the start of whole-of-organisation improvements realised following implementation of Freight2020 with mobile integration. The chosen in-cab touchscreen devices allow drivers to receive their jobs and communicate with the office via on-screen messaging. Drivers can easily and quickly enter pre-trip checklists, declare vehicle mass, and view when their next rest break is required.  Back-office staff can track all vehicles and produce on-demand trip and driver efficiency reports. The real-time monitoring of speed and fatigue levels has resulted in fewer driver violations. Delivery performance has benefited immensely too. Jobs are dispatched directly from Freight2020 to the driver – and when the driver completes the job, all the accounting and billing information is transferred from the truck back into Freight2020.
"Mt Noorat Freighters is a relatively small yet successful company that continues its growth in a crowded market," Grant said. "Their management team is to be congratulated for their diligence and foresight in selecting technology partners this time. Not only have they achieved real-time control over every aspect of their business, and gained efficiencies in billing and operational administration, they are definitely future-ready with the scalability and competitive edge to maintain the expansion of their market share."