Here's great news for any organisation looking for safer and more reliable heavy haulage, heavy cranes, and heavy rentals services.
NQ Group, one of the country's most reputable and most trusted heavy lift and shift companies, has just announced that it has received ISO 9001:2008 certification. The certification was awarded on May 23, 2013 by Sustainability Auditor Dave Bardsley of Better Business Strategies, after Mr Bardsley conducted a four-day audit of NQ Group's new management system in action.
Achieving the highest standards of quality, safety and customer satisfaction
To qualify for ISO 9001:2008 certification, an organisation is required to demonstrate its ability to consistently provide products or services that meet customers' specific needs. In addition, these products and services have to demonstrate compliance with applicable statutory and regulatory requirements. An organisation seeking the certification should also aim to enhance customer satisfaction through the effective application of the management system as well as its continuous improvement and conformity to safety and statutory rules and standards.
The NQ Group started upgrading and expanding its management system over 12 months ago as part of efforts to obtain ISO certification, as well as to continuously improve their systems and provide clients with maximum customer satisfaction. Having passed the gruelling Sustainability auditing process, all of the hard work, patience, and dedication has been amply rewarded.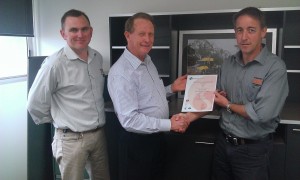 NQ Group Compliance and Systems Manager, Aaron Brown, attributed the company's latest success to a team of dedicated workers, with particular acknowledgement of the directors and those from senior management. He said that it was a "team effort." "You can't have a workable system unless it has the support from everybody," Mr Brown added.
Great management empowered by excellence in management systems
Technology provided the informational control, efficiency and reliability needed to underpin the NQ Group team's pursuit of ISO certification. Grant Walmsley, General Manager of CMS Transport Systems, said, "NQ Group are to be congratulated. The ISO certification auditing process is rigorous and the standards are exacting. Successful implementation of modules from our Freight2020 suite of transport management solutions provided the NQ Group with major benefits and advantages at all operational and administrative levels. We are proud to have developed and provided the transport management system which is contributing so greatly to the NQ Group's success."
Continuous improvement the way forward for NQ Group
Despite this latest achievement, NQ Group isn't resting on its laurels. The firm has revealed that it is keen on making even more improvements on what it has initially created. As a matter of fact, NQ Group has already initiated the process of obtaining a certification for AS:4801 OHS, which is the Australian standard for occupational health and safety management systems.
NQ Group General Manager, Michael Brown, said it is only logical for the company to take such a big step. "It's the next logical step for us and the business. Health and safety have always been a major priority for the NQ Group and this will tie in well with our Quality certification," he further stated.
Founded in Mt Isa, NQ Group has been consistently providing tailored heavy lift and shift solutions for over 15 years. Although the company is primarily based in Queensland, it has won the respect and patronage of many businesses throughout Australia. NQ Group's impeccable track record has earned its status as a preferred supplier of heavy lift and shift services.
With the latest ISO Quality Certification and management system in place, the management team driving the NQ Group remain confident that their heavy lift and shift solutions are the safest and most efficient available in Australia. They are also committed to continuously building meaningful relationships with the members of the country's resources, infrastructure construction, and industrial sectors.