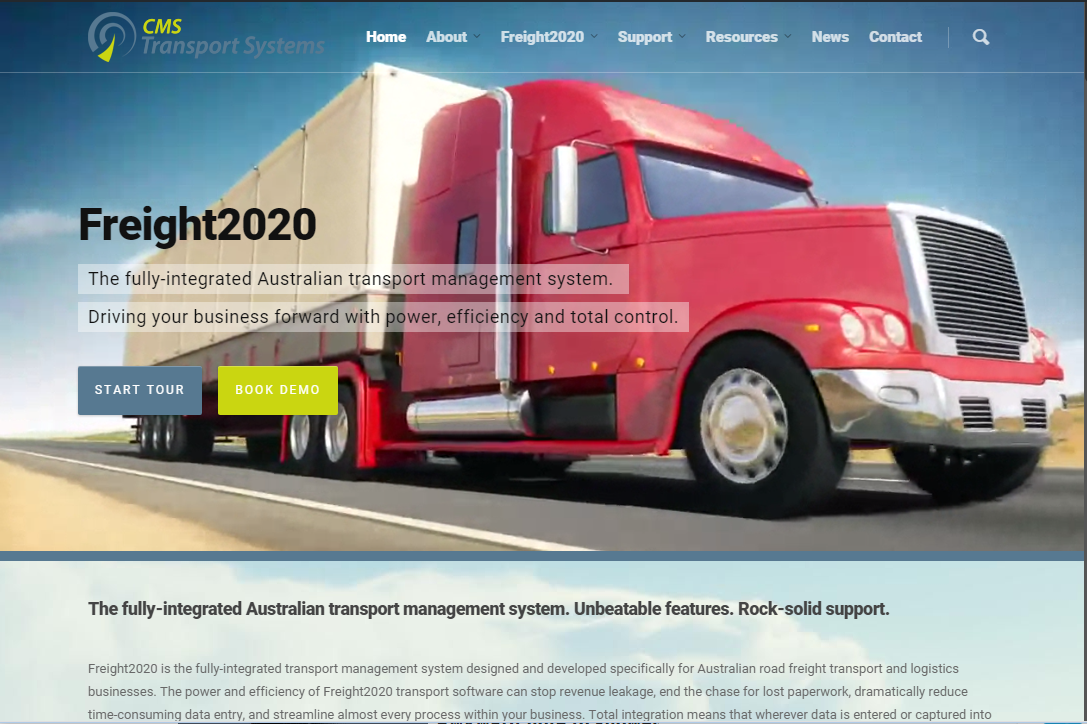 CMS Transport Systems has launched a new website for the Freight2020 transport management system at www.transportsystems.com.au.
The new website is designed to illustrate the modular nature of Freight2020 and the power of fully-integrated modules working together. The creative development and technical production of the new website took more than nine months to complete. The new website pages are Google-friendly and responsive across different desktop displays and mobile devices.
Perfect 20/20 vision for businesses
"There was nothing much wrong with our previous website. It just failed to convey the excitement surrounding Freight2020, and where the system stands in terms of capabilities and performance," said Grant Walmsley, general manager of CMS Transport Systems. "The computer-generated animation on our new home page is a visual metaphor for the way Freight2020 allows managers to enjoy perfect twenty-twenty vision and a 360-degree view of their entire business in real-time."
"It's also a lot easier to understand the depth and breadth of Freight2020 now that we have images to represent each module and interactive feature within the system. For example, Freight2020 Operations Management is available in eight different configurations: General Freight, Container Freight, Contract Logistics, Earthmoving, Energy Distribution, Heavy Haulage, and Livestock. Some businesses may need only one of these to suit the way they're doing business, others two or more. Operations Management is where revenue is generated so it's important to get the right fit in a transport management system. Businesses shouldn't need to change just to fit their software."
Easier to appreciate the Freight2020 system
Freight2020 Operations Management is one of five management modules including Financial Accounting Management, Fleet Maintenance Management, Human Capital Management for compliance, payroll and HR management including subcontractors, and Warehouse Management. Then there are system-wide interactivity options such as the custom-branded Online Customer Portal, Auto-Email Notifications, Driver Mobility, and Item-Level Tracking. Any configurations of Freight2020 can be implemented as a perpetual license or pay-by-the-month cloud-based (SaaS) subscription, and the system can integrate with popular third-party solutions. With our new website, it's easier to appreciate how data captured into any part of the Freight2020 system is automatically updated and shared throughout the system in real-time. Everyone has the most up-to-date version of information at any moment. The business runs more efficiently with a high level of automation. Customers are kept informed automatically. The business is more profitable and compliant on every level because of the tighter controls and elimination of common errors.
Partnership in multi-channel marketing
The successful development of the new website for Freight2020 is the result of a long-standing collaborative relationship between CMS and the company's partner in multi-channel marketing, Ginormous, represented by project manager, Melanie Williamson. "We were really pleased to deliver CMS with a new website which is truly reflective of the power and sophistication of their Freight2020 transport management system," Melanie said of the TransportSystems.com.au B2B website design, copywriting, and production.
"CMS is not just one of the most advanced technology companies in Australia, but the whole world, and it is our privilege to be able to contribute towards their success. We created the new Freight2020 website in WordPress for visual wow-factor, combined with user-friendliness and device responsivity. It is a fairly large-scale website with numerous metaphoric images, and the latest plug-in technology for delivering touch-friendly navigation throughout, but all the hard work has been worth it. The website is an engaging showcase for Freight2020 and CMS, and we have seen a significant increase in the number of inbound enquiries from people wanting to know more about Freight2020 since the new website was launched."
Focus on the people behind the system
"Another great attribute of the new Freight2020 website is the focus on the people behind the system," said Melanie. "CMS possesses outstanding strengths in development, training, implementation and support. As a company, CMS is all about empowering Australian road freight transport and logistics businesses, and their technical experts and business-transition consultants are individually and collectively dedicated to achieving this mission."