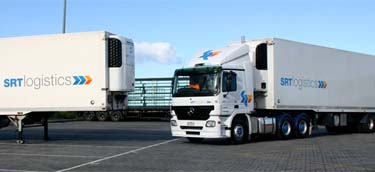 USA-headquartered technology giant Progress Software, maker of the OpenEdge power behind the Australian-developed transport management system Freight2020, has drawn global attention to the successful deployment of Freight2020 by rapidly-growing Australian refrigerated and dry-goods transporter SRT Logistics, featuring the Tasmania-based Freight2020 user-organisation in a case study produced for international media release and publication on Progress.com.
"Australia is one of the world's most sophisticated nations in terms of its road transport industry," said Grant Walmsley, general manager of CMS Transport Systems. "The need for more powerful, scalable, user-friendly systems to support this very high degree of operational complexity and accountability has driven CMS, as the developers of Freight2020, to effectively lead the world in transport administration, compliance and logistics technology," Grant said.
The case study produced by Progress Software is helpful in detailing the journey of SRT Logistics towards greater operational efficiency and business scalability, as well as real-time access to freight and logistics information, following the company's decision to abandon their legacy enterprise system in favour of Freight2020.
"In evaluating the various options for replacing their legacy system, SRT Logistics wanted a solution that would configure to reflect the way they ran their business, not the other way around," Grant said. "The majority of transport management solutions demand the adaption of business processes to fit the software. But in developing Freight2020, we always acknowledged that each transport business is somewhat unique in the way it operates. That's why Freight2020 is modular, designed to handle the specifics of many different freight markets, and almost infinitely configurable to suit any preferred style of operational procedure and administrative processing. Expansion into a whole new freight market, for example, is as simple as configuring the preferences within Freight2020. Full integration with the rest of the Freight2020 system is already built-in."
For SRT Logistics, the release of a case study on their business by an international software corporation is another milestone in their accelerated growth from local refrigerated transport operators to a more nationally-oriented organisation offering services including transport, distribution, warehousing and supply chain management to the broader Australian wholesale and retail food industry.
"To be selected as technology partners by a dynamic firm like SRT Logistics, and for Freight2020 to be chosen to facilitate their further growth and expansion – it brings credit to Progress Software as much as CMS," said Grant. "It would not have been possible for us to have developed Freight2020 to world-beating standard without OpenEdge from Progress Software as its environment."
SRT Logistics first went live with Freight2020 more than two years ago, deploying many of the modules within the Freight2020 solution suite including Accounting, Payroll, Human Asset Management, Fleet Maintenance, Freight Management, and Warehouse Management. In progressive roll-out is the transition to a cloud-based utilisation of Freight2020 with added mobility features to enable real-time in-cab exchange of data between drivers and system, as well as integrated sign-on-glass receipt of delivery, and also in-warehouse barcode scanning, further showcasing the capabilities of Freight2020 as the master end-to-end business solution for more competitive Australian transport companies like SRT Logistics.
Read more: Case Study on SRT Logistics by Progress Software.