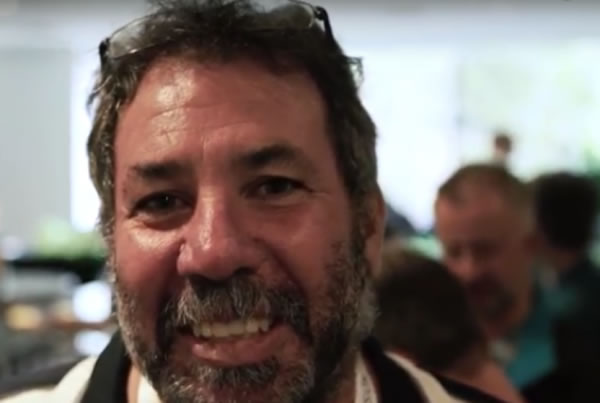 Close to 150 transport business owners, managers, administrators, and specialist consultants attended the inaugural Freight2020 Australia and New Zealand user group conference in March 2017. The enthusiastic response from participants confirmed the arrival of Freight2020 VISION as a major annual transport industry technology event.
Shaw's Darwin Transport
, during the lunch break at Freight2020 VISION. Shaw's are the market-leading freight carriers operating in and out of Darwin and were long-term users of a competitive transport management system until switching to Freight2020. "It's enlightened us to some of the greater aspects of the [Freight2020] system and taught us a few things we didn't know."
Matthew Richers of Richers Transport, Maryborough-headquartered eastern seaboard carriers with more than 200 employees, said, "There are four of us from the company here today and I guess the most exciting thing for us is reconfirming Freight2020 as the right fit for our business. We use Freight2020 in its entire capacity throughout our operations, repairs and maintenance workshop, accounts… It's been good for myself and the rest of our team to look at Freight2020 Mobility, which we're implementing in the coming months, as well as the business analytics [Freight2020 BI360 real-time business analytics dashboard], which will be really great for our financial team and director."
Peter Evenden, managing director of Prospect Refrigerated Transport, the Sydney-based company which carries temperature-sensitive freight for some of Australia's iconic grocery brands said, "I'm down here in Melbourne having a great time and learning lots."
Another Sydney-based delegate was Emerson Pierce from John L Pierce Transport ("JLP"), the bulk tanker specialists with 150 trucks and more than 330 employees. "It's been a very interesting day, learned a lot," said Emerson. "We've taken away a fair bit, so really happy to be here."
"This is a very exciting time for us"
Siobhan Clifford, one of a team representing the Victorian-based bulk haulage specialists Mount Noorat Freighters at VISION said, "We've had a great day today at the first Freight2020 conference. We're looking forward to using Freight2020 Mobility in the near future."
With Freight2020 now one of the fastest-growing Progress OpenEdge-based ERP solutions in the APJ (Australia, Pacific, Japan) region, many delegates attending VISION on behalf of their respective companies were relatively new to the system. Mark Battersby of PK Logistics said, "We are just about to go live with Freight2020 so this is a very exciting time for us. It gives us lots of new opportunities to explore with compliance and safety, possibly mobility, and also our warehouse and transport is going to be integrated, which is very important for us."
More than 130 transport and logistics companies based in Australia and New Zealand are now using Freight2020 to drive their businesses more efficiently and competitively, a good number of these being represented by delegates making the journey to attend Freight2020 VISION 2017.
Peter Evenden, Emerson Pierce, Allan Thornley, Matthew Richers, Siobhan Clifford, and Mark Battersby were interviewed at Freight2020 VISION for the 2-minute "Freight2020 VISION 2017 Delegate Reviews" video which is now available for viewing on YouTube.
"This has been a great day," said Sydney-based Allan Thornley, managing director of