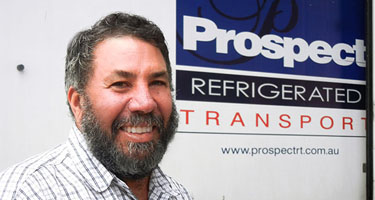 Founded in the early 1980s by former driver Peter Evenden (above), Sydney-based temperature-controlled freight specialists, Prospect Refrigerated Transport, recently implemented the Freight2020 transport management system and began offering their customers real-time account access with bookings and track-and-trace features from Freight2020 Online, integrated to match a brand-new website.
"It would not have been sustainable in the long-term for our company to continue managing a growing national transport business through the largely manual administrative processes we'd traditionally used. We needed a transport management system that would set us up properly for the future, and we found that in Freight2020," Peter said.
Widely recognised for their high-profile carrying of iconic frozen-food lines like Sara Lee desserts and Sargents-brand pies, PRT decided it was time to revamp their entire web presence with a matching customer login page and interface environment for Freight2020 Online.
"We think our new website is really cool," joked Mark Smith, national operations manager for Prospect Refrigerated Transport. "Seriously though, in so many ways, particularly with our new ability to offer real-time online services to our customers, PRT has reinvented itself."