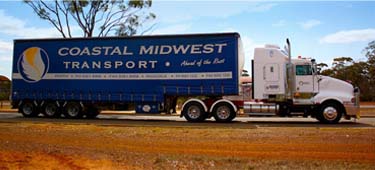 Western Australian-based road freight operator, Coastal Midwest Transport, recently extended utilisation of the Freight2020 transport management system to offer freight customers the convenience and efficiency of online booking and track-and-trace of consignments, launching these new services with intensive all-round promotions.
"Our customers no longer need to deal with the hassle of traditional carbon-copy consignment notes," said Michael Wilden, the general manager of Coastal Midwest Transport, about the company's smart-looking, web-based booking system powered by Freight2020 Online. "Freedom from manual completion of paperwork is of great benefit to our customers. So is the ability to monitor the progress of bookings and deliveries in real-time, without needing to make phone calls."
"We wanted to encourage all of our customers and suppliers to register as online users and start taking advantage of our real-time services. To ensure we were getting the news out to everyone who would benefit, we sent a mail-out to all stakeholders in our network, and every inbound phone-caller received an announcement. We added the promotional message to all email signatures, and our drivers distributed flyers when doing pick-ups or deliveries. We are promoting the new online services on our website, and to add further momentum we've been running a competition that's open to anyone who creates an online booking, the prize being the opportunity to go to a box at the footy," Michael continued.
"The response to our promotional efforts has been very enthusiastic. Once customers are registered for access to our new online booking system they can make their own freight bookings, and print their own connote and freight labels from any desktop or mobile browser. Customers can track and trace their deliveries, search for historical connotes, and access proof-of-delivery details in real-time, as our entire online booking system is fully integrated within Freight2020, including our POD management system," Michael said.
With the Freight2020 Online interface skinned to match the look and feel of Coastal Midwest Transport's website, customers can move seamlessly between their website and online booking system.
Grant Walmsley, general manager of CMS Transport Systems, the Australian developers of Freight2020, said, "A growing number of transport operators are taking advantage of Freight2020's ability to deliver their customers with greater convenience and efficiency via live web-based interaction and integration with Freight2020 data."
"Freight2020 has long had the ability to deliver customer-accessible, real-time web services. This feature is a key factor for some transport operators in their choice of Freight2020 as their TMS. Other firms choose Freight2020 for immediately-needed gains in administration and operational efficiencies, with the customer-friendly Freight2020 Online features to be implemented further down the road."
"From all feedback we've been receiving from user-organisations that already deliver Freight2020 Online via a self-branded portal, this is one service enhancement which can give even smaller operators a more competitive edge in any freight market, and greater parity with the service offerings of much larger operators," Grant said.
"Coastal Midwest Transport has joined many larger, higher-profile carriers like McAleese Transport, McColl's Transport, Asixa Logical Outcomes, John L Pierce Transport, and Greyhound Freight in offering online customer services powered by Freight2020," said Grant. "There are so many advantages to be gained by transport operators from a Freight2020 Online booking system, including the huge savings in time and paperwork for users and customers – and the prevention of errors that are inevitably caused by manual information-handling and data-entry procedures."
CMS Transport Systems are keen to see other Freight2020 user-organisations taking their businesses to the next level of interactive efficiency with Freight2020 Online. "It's never too soon to implement Freight2020 with self-branded online services," continued Grant Walmsley. "Today's freight customers are expecting online booking and track-and-trace features as the norm in their day-to-day freight service experience, rather than the exception."