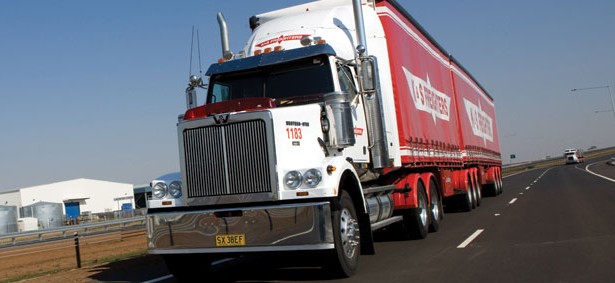 Australian transport group K&S Corporation Limited has defied the flow-on from slowed mining and manufacturing activities in Australia to post an increase in net profit of almost 50% to $13.3 million, with operating profit up 19.3% to almost $700 million, according to financial results reported in Fully Loaded, the Australian Transport News online magazine.
Profit from K&S operations in New Zealand rose exponentially from $277,000 to $1.48 million with further growth predicted – an encouraging indicator for any Australian transport company looking to expand their own interests and operations outside of Australia.
The main contributor to K&S' profit growth in dollar terms remained their Australian-based operations, delivering $10.4 million net profit, up from $8 million, notwithstanding that K&S faced the same set of challenges as any company with exposure to slowed manufacturing and mining-related demand.
K&S was originally established in 1945 to support Mt Gambier and Victoria-based businesses, expanding their road freight transport operations into national rail-freight forwarding in 1976. In 1991 K&S became the first B-double combination operator in Victoria.
K&S became a public company in 1998 – growing reach, capacity, and diversity through acquisitions starting with Brisbane-based FH Transport in 2000, adding Stepnell Transport in 2001. K&S' presence in New Zealand commenced in 2002 with the acquisition of Cochrane's Transport, followed by McCarthy's Transport (log haulage) and North Eastern Transport (primary produce haulage).
Acquisitions continued in Australia with the addition of DTM (Melbourne) then Brooke's Transport (Bunbury) in 2008, and in 2010 came Pacific Transport, and Perth-based Regal Transport Group. K&S acquired Collare Transport in 2012, then in 2014 the very significant acquisition of Scott Corporation was completed via an off-market takeover bid. Scott Corporation comprises four high-profile operating divisions: Bulktrans, Chemtrans, Energytrans, and Hyde Park Tanks. K&S completed the acquisition of the FMCG freight-forwarding specialists Northern Territory Freight Services (NTFS) in March 2015.
Increases in revenue not always increasing net profits in transport industry
"Increasing the financial turnover of a transport business by expanding the fleet and diversifying services doesn't necessarily translate into increased profit – not even when economic conditions are most conducive to growth," said Grant Walmsley, general manager of CMS Transport Systems.
"Inefficient administrative systems, compliance and maintenance oversights, and shortcomings in customer service can undermine the profitability of any transport business," Grant said.
Optimisation of business systems and processes
K&S reportedly attributed this latest chapter in the company's success story in part to "new IT solutions to support customer service and operational efficiency and cost reduction initiatives". CMS added that these new solutions included the progressive implementation of Freight2020 transport software modules for Operations Management and Warehouse Management.
"K&S was using a well-known competitive transport management software solution before making the switch to Freight2020. Following a very extensive period of in-house testing and evaluation by K&S, Freight2020 was determined to be the best fit for the group's needs going forward," said Grant.