Kudos to Asixa for receiving this year's Logistics Leader Award at the recently concluded 2013 Mercury Awards in Sydney. The company, which is based in Pakenham, Melbourne, was hailed as the country's best logistics expert for its highly specialised service culture that benefited dozens of clients and end customers in regional Victoria. The winner was selected by a panel of judges, composing of three independent industry experts and the editor of Logistics & Materials Handling.
John McMillan, Asixa's director, attributed the company's success to its capability to provide quality customer service for their clients. "We do what we do and we do it well and consistently and our customers seem to be very happy with what we do," he said. He proudly added that they have had customers who have been with them for almost 20 years.
Asixa started operations in 1995. Since then, it has been providing service delivery to regional and rural areas across Victoria. The company also offers road freight, warehousing, and consulting services to clients in the plumbing, industrial supplies, retail, and not-for-profit industries.
Asixa delivering almost 850,000 tyres per year throughout Victoria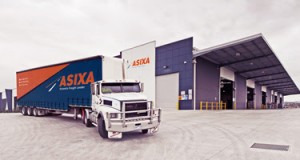 The Melbourne-based company also provides delivery services in the automotive sector. In fact, Asixa delivers almost 850,000 tyres every year. From passenger vehicle tyres to those used in heavy machinery, the recently hailed logistics leader transports them throughout Victoria's regional centres and rural towns.
And to keep up with the ever-changing business environment, Asixa is continually improving and expanding its specialist tyre operations. As a matter of fact, the company is able to palletise a large portion of its tyre freight on-site by using automated shrink-wrapping equipment to ensure the safety and security of stocks. This enables the company to maximise the use of forklifts.
After applying the abovementioned practices to its own operations, Asixa makes it a point to share such valuable knowledge with supply and distribution clients. Because the company is committed to providing quality services and furthering the local logistics sector, it educates clients and provides them with the materials to implement specialist handling practices through Asixa's consulting capabilities.
Reduced manual handling of palletised stock
This allows the company's clients to maximise palletised and machine-handled stock and reduce manual handling. And more importantly, it minimises the need for Asixa to implement manual handling of goods, as well as reduces the costs for clients. Such business procedures also make it possible for them to occupy client loading docks for shorter periods of time.
Asixa use Freight2020 transport software, by CMS Transport Systems, as their transport management system.
"With such efficient business practices and commitment to offering quality customer assistance, it is a fitting acknowledgement for Asixa to have taken out this year's Logistics Leader Award," said Grant Walmsley, general manager of CMS, the company behind the Freight2020 transport management system helping to keep Asixa's operations and logistics management way out in front of the pack. "Again, congratulations to the people behind Asixa. This is indeed a huge achievement on your part."